August is a time for holidays and festivals. In Ireland we have many…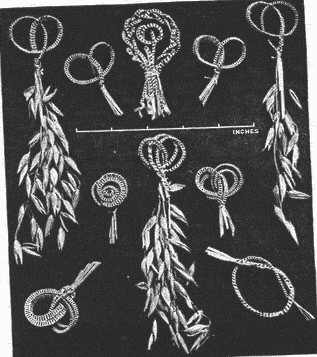 It is also harvest-time and up to quite recent times the time for Lunasa – the Harvest Festival.
This period marked the onset of autumn and the harvest. Lunasa was celebrated either on the last Sunday of July or the first Sunday of August. While this tradition has died out, memories remain.
In some areas, the day was marked by gatherings on mountains or by lakes. Elsewhere the tradition was for harvest fairs.
The family and whole community were involved in the harvest. The cutting of the last sheaf, also known as a caillech, was accompanied by a special ceremony. This sheaf was often decorated and placed above the table during the celebratory meal.
Different customs prevailed in other areas where men and women wove "Harvest knots" in straw. These were later exchanged at the festival, as tokens of love and courtship. This lovely tradition is the inspiration for my Harvest Knot pendant, seen below.
This tradition of making "harvest knots" and other straw articles still thrives in Northern Ireland and England.
Examples of rural crafts and "harvest knots" of various types, are to be seen in the National Museum of Ireland Decorative Arts and History, in Dublin, and more prominently in the Museum of Country Life, Co. Mayo. Here, also, demonstrations are regularly held, showing how they are made.
Information from Guide to the National Museum of Ireland – Country Life.