National Museum of Ireland
In collaboration with the National Museum of Ireland, I create jewellery inspired by select artefacts.  These pieces are available for purchase in their retail outlets and online store.
This collection of jewellery is inspired by the Early Iron Age Gold Ribbon Torc found in Antrim (NMI,R.2606, Archaeology). 
This beautiful gold artefact was made by the technique known today as anticlastic raising- whereby the  technique dictates form and function.  The skilled command of gold and elegant proportion of the piece has bequeathed us a superb example of the goldsmiths skill – design and craft.
My silver and 18ct yellow gold collection -comprises:  pendants, necklets, earrings, bracelets, bangle and cufflinks.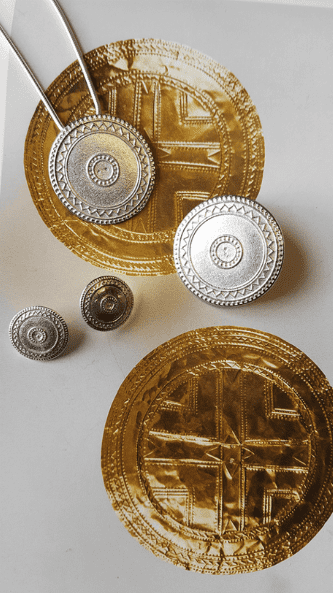 The early Bronze Age gold sundiscs (NMI, 1872:34, 35 Archaeology) with their thin sheet decorated with a variety of ridges, chevrons and dots inspired my sterling silver collection of pendants, brooch, earrings, ring and cufflinks.
Bronze Dress Fastener Brooch
The La Tene period, 450-100 BC was a time of great richness of expression in Irish Art. This brooch is a reflection of the carved 6th century Ultimate La Tene  Bronze Dress Fastener (NMI, W. 492 Archaeology)
Viking-Inspired Expandable Bangle and Ring
The expandable bangle and ring refer to a bangle with a similar structure seen in the Viking collection in Archaeology.  This I originally made when a student in NCAD.
While the gold artifacts in Archaeology are the most notable in the Museum's collection, the less well known work of the 19th and early 20th century blacksmith deserves our attention.  This includes a selection of kitchen implements on display in the Irish Country Furniture Room in Decorative Arts & History, as well as Country Life, Co. Mayo.  The versatile skill and sensitive expression shown by these craftsmen is displayed in the following implements: grid irons, bread irons and toasting forks. Their owners must have derived great pleasure from their use over many years. 
It is a privilege to celebrate such work and to develop an exclusive range of silver jewellery for the National Museum of Ireland retail outlets.  Particular artefacts were chosen and analysed to derive the best approach for wearable jewellery.  The collections include: earrings, pendants, a necklet and brooch.    
 The sterling silver Heart and Trees collections are presented in both a polished and blackened (oxided) finish.